AT SEA brings together a collection of significant work by four leading contemporary artists ; Norman Ackroyd - Simon Carter - Maggi Hambling - Len Tabner
Each artist is widely admired and acclaimed with many works exhibited and held in public collections both in the UK and overseas, AT SEA explores their varied practice and response to the sea and the coastline of the British Isles, including etchings, painting and sculpture.
Harlow has two outstanding collections of public sculpture and 20th century watercolours, all of which inspire our temporary exhibition programme, some of the gallery's permanent 20th century collection of watercolours and will be on view including work by Norman Adams, John Nash and Brian Wynter.
Artists:
Norman Ackroyd RA CBE was born in Leeds and studied at The Royal College of Art, London in the early 1960s, he was elected into the Royal Academy of Art in 1988 and appointed Professor of etching, University of the Arts in 1994 and became a senior fellow at the Royal Academy of Art in 2000. He has been awarded a CBE for his services to engraving and printmaking in 2007. Norman's work is held in many public collections worldwide including the Art Institute Chicargo, British Museum and the National Gallery of Norway. An artist and printmaker Norman's work ranges in scale and often uses watercolour and etching to show abstraction and detail. He also creates specially commissioned pieces in bronze or steel for architecturalprojects. On show in the 'At Sea' exhibition will be exquisite etchings from across the British Isles each capturing the mood and beauty of the environment.
Norman Ackroyd, No. 613 Stac an Armin - Evening
Simon Carter was born in Essex and still lives and creates from a studio in North-East Essex coast. Simon is constantly sketching and denoting the landscape experiencing the environment. Information recorded in the landscape morphs when it is retrieved and reused to create large and small scale paintings. Simon layers patterns of waves from drawings adding in figures and works quickly to retain the energy of putting paint to canvas. His works are held in many public collections across Britain and abroad including The University of Essex, Epping Forest District Museum and the Rugby Museum and Art Gallery. Recent exhibitions include Art Toronto with Messum's, Contemporary British Watercolours at Maidstone Museum, Action: Abstract Painting at Swindon Museum and Bacon to Rego at Abbot Hall. Simon's most recent solo show was The Series Paintings at Messum's in 2015.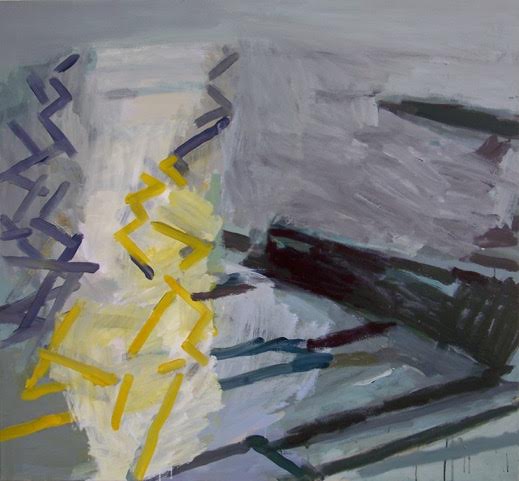 Simon Carter, Light on the Sea
Maggi Hambling CBE was born in Sudbury, Suffolk and studied at Ipswich School of Art and The Slade School of Art, London in the 1960's. One of the UK's most distinguished contemporary artists, Hambling exhibits throughout the UK and abroad and has works in public collections including the British Museum, Tate, The Victoria and Albert Museum, The National Gallery and the National Portrait Gallery. Hambling's celebrated sea paintings use oil paint to evoke the crashing of waves and the power and energy of the sea, and were the subject of her exhibition The Sea at the The Fitzwilliam Museum, Cambridge in 2010 and, more recently in 2015, Walls of Water at the National Gallery, London. Her practice also includes printmaking, installation andsculpture, with one of her most famous public sculptures being Scallop situated on Aldeburgh beach, Suffolk. We are proud to exhibit her painting, printmaking and sculpture in our exhibition.
Maggi Hambling, North Sea, storm approaching, 2015
Len Tabner works and lives in North Yorkshire. He was born in 1956 near Middlesbrough, studied at Middlesbrough College of Art, Bath Academy of Art and the University of Reading. He has exhibited at many galleries and his works have been purchased by Northern Arts, the Washington Development Corporation, Unilever and others. He is a watercolour painter and printmaker whose favourite subjects are landscapes and seascapes. He paints outdoors in all weathers which gives his pictures of storms at sea a wild immediacy. Although watercolour is the base of his material use he also utilises conte chalk and graphite to intensify the finished piece. In this exhibition South Gare Looking Down Towards Coatham is displayed from our 20th century permanent watercolour collection.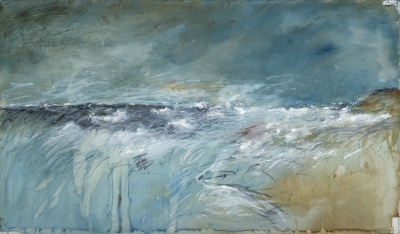 Len Tabner, South Gare Looking Down Towards Coatham