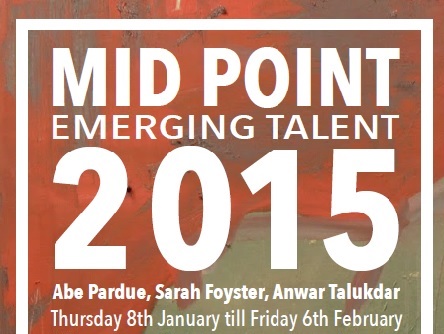 Harlow Art Trust is committed to supporting new talent and has selected three artists that show exceptional, exciting artworks, full of innovation and promise. Abe Pardue is a Harlow artist who studied and lives locally.
Artists talk Saturday 31st January 1pm - What does it take to make the leap from student to exhibitor. Attend this talk to hear the artists discuss their work and experiences as well as an opportunity to pose your own questions.
Visit the show from January 7th and leave suggestions for questions to the artists and then attend the talk to hear your questions answered.
Artists Profiles
Abe Pardue
My work is at a point of transition from almost abstract paintings based on corners of rooms, light and shadow where I utilise a dampened palette to more bright and figurative works. The earlier paintings are about stillness and the process of painting; influenced by Eastern philosophical and spiritual teachings, the work was also motivated by moment to moment experiences, the process of painting and how it changes as well as the viewer's relationship with the paintings.
My recent paintings are of people from memory or photographs that I find visually striking. They are of either people I know or strangers that I have seen on the street that I have drawn in my sketchbook which have then evolved into a painting.
www.abepardue91.blogspot.co.uk
Sarah Foyster
Sarah Foyster is an artist based in Norfolk, UK. In the summer of 2014, she recently completed a Masters Degree in Fine Art with Distinction at Norwich University of the Arts.
Her paintings explore psychological space, using abstracted figuration to reflect on feelings of anxiety, dislocation and isolation within our own unconscious.
Sarah is concerned with the psychological effects to the human condition, borne out of different physical and mental traumas. She examines the boundaries of the self and how external forces such as authority and control may cause such an underlying anxiety. Her paintings are intended to be ambiguous, oblique and to capture the imagination. By examining such imaginary spaces of the psyche through the paint surface, she challenges notions of mental health, surveillance, modern communication overload and misinformation. Using a traditional medium of oils and through the effects of layering and fragmentation, an often absurd and uncanny narrative unfolds, as within a film still or characterisation within a novel.
Anwar Talukdar
I build in two distinct ways, one rigid and controlled, where growth is precise, led by a plan, whilst the other is more informal and improvised, where growth occurs organically, without rigid systems to guide it, where the element of chance may sometimes occur, or mistakes sometimes made, can go onto become the works themselves or push an existing piece in a direction not anticipated or planned. The work's exhibited here reflect former.
Anwar graduated in 2014 from the Chelsea College of Art and now lives and works in London.